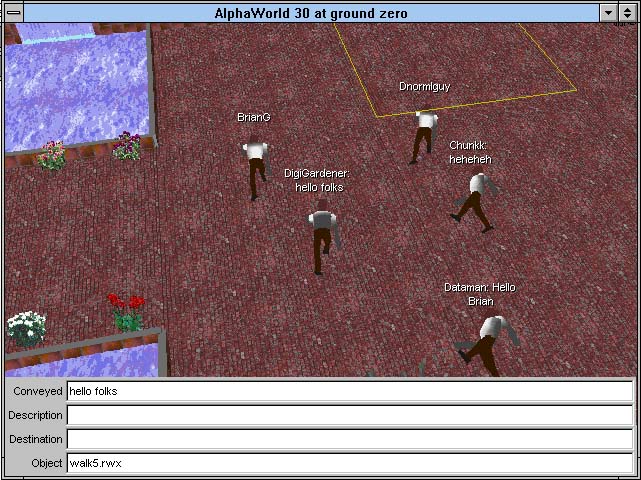 Digigardener (that be me, Bruce Damer) shooting the breeze with the gang in Alphaworld version .30, summer 1995. See more early images here.
I was reminded that while standing around in the .30 version of Alphaworld in summer 1995 (see image above) a group of us were moved to come up with some new words to describe the experience of being inside a new medium. I distinctly recall commenting to the group "guys, what do we call the experience of being here, I mean, we aren't merely online, hmm... I guess we are simply inside a world or 'in-world'". In the grand tradition of other new terms being hyphenated when they are in training-wheels, in-world has now become inworld and is being used pretty widely. See Google search item #4 for "in-world" which encapsulates this shift:

Second Life Inworld Help
Activities and having fun in-world... Groups Starting, joining and managing...
Of course if you Google the term "inworld" in its unhyphenated form you get:
Did you mean: in world
...but the search does give some positive hits including the homepage of a virtual worlds design company called InWorld Studios. So... I guess the term is slowly wending its way "OutWorld" toward the Websters.
Continue on for more juicy terms and a whole goshdarned glossary...
Just the other day I was sitting with a couple of hypercharged folks who had been Second Life residents since last October and where bubbling over with creative possibilities and business ideas. It occurred to me that a good term to describe their state of mind as being "world-struck" (aww heck, lets strike the hyphen and just say "worldstruck"). I couldn't restrain my own bubbling and blurted out "hey, you guys are worldstruck!" Oops, now I had to explain myself. This was productive as I really needed to explain to them that I had seen this in many people over the years and counsel them that most of their dearest held beliefs of what worlds could deliver for a startup venture just might not pan out. I ended the discussion with "guys, don't mortgage the farm on this one, but if you wanted to do that as an art installation inworld, well you might just get somewhere."
My 1997 book "Avatars" strove to capture some of the new terminology emerging within avatar and game-spaces. For your reading pleasure you can find that glossary now online including a pretty good early set of general purpose emoticons, emoties and social acronyms as well as terms of all kinds from virtual worlds. See it all at:
Here you can find a definition for 'Avatar'
Originally the term avatar came from Hindu mythology and is the name for the temporary body a god inhabits while visiting Earth. Avatar can also denote an embodiment or concrete manifestation of an abstract concept. The ancient Sanskrit term avatara meant "a passing down". Avatar was first coined for use in describing users' visual embodiment in Cyberspace by Chip Morningstar in the early days of Habitat back in 1985. In text-based virtual communities, the term avatar is not used, users are identified instead by handles, aliases or nicknames. Avatars are also called: characters, players, virtual actors, icons, or virtual humans in other virtual communities or gaming worlds.
A term that I wanted to include but didn't was 'cadavatar', an avatar whose user has crashed out and stands there disembodied. This term harkened back to the scene in Neal Stephenson's novel Snow Crash where the user's brain has been 'snow-crashed', he dies and his avatar drifts there momentarily before a daemon comes out to sweep it away.
Anyone out there in TN-Land got any more "found words" to suggest? Should I update the glossary as a continued community resource?
One more guest column post to come (a bit late but I promise)! It will be a narrative version of part of the talk I am giving this year as part of "Digi's World Tour". For those of you who can't stand to wait, you can see the whole slide show right now here (warning, 73MB but worth it!).
More to come...