Before I get started on a next leg of the journey down our history timeline I want to bring up some resources on the web which many of you referenced or requested. After this we will pick up where we left off and then take a crack at the key definitional question: is a "virtual world" different from a "game"?
History Resources on the Virtual Worlds Medium
There are some great sources out there, including:
1) Ralph Koster's Online World Timeline
Ralph artfully weaves together very early concepts of online media such as Memex, with the birth of online worlds and richly innovative platforms such as PLATO, MUDs and early microcomputer-based online environments.
2) My own book (published in October 1997):

Avatars! Exploring and Building Virtual Worlds on the Internet
The book has some good first hand accounts of platforms from the 1994-97 period, plus history sections on seminal work including Habitat (more on Habitat later in this post). And just for you TN subscribers... some years ago a Danish university put the entire contents of my book on their server (from the CD ROM) and you can now get this here (steal that book!).
3) Indeed much of the Terra Nova site is itself a huge and valuable repository of history. Last year TN hosted a discussion (since gone a bit quiet) called:
The History of Virtual Worlds
If you know of other history/timeline sites please let me know (put it in the comments)!
Back to the Timeline

Maze War (Xerox Star version)
OK, lets get back on the journey through the timeline. In our last installment we took a first peek at Maze War, which was arguably the "first first person shooter". Well, "Maze" (as it is affectionately known) established in just a few iterations from 1974 to 1979 at NASA Ames, MIT, Xerox and elsewhere, all the basic features of a heart-pounding first person shooter. These a-Mazing innovations included many firsts: a first person + plan (overhead) view of a 3D (albeit wireframe) virtual space shared over a network (the Arpanet), the first bot (nonplayer characters) in such a space, as well as spoofing (hijacking someone else's identity and chat) instant messaging, avatars (text handles plus simple arrow graphics at first and later on the famous eyeball in the Xerox Alto version), first in-world building (I think it was in the MIT Project MAC version where you could change the side of a hallway to create a fake passageway), and the first levels in a 3D environment (going up and down tunnels).
Legend has it that in the mid 70s, when the entire Arpanet was operating on a couple of 64Kbps leased lines, a letter went out to the main hubs at the time that demanded "those of you who are playing Maze are taking up to half of the packet traffic on the Arpanet so we respectfully request that you limit play to off-hours" (my paraphrasing). It is ironic that by the middle 70s we had the same dual character we see in the Internet today: the staid, serious and sometimes boring work of email, documents, file transfers and network ops versus the alternate reality of chasing your colleagues down the halls in Maze! Today we sneak in a few moments in World of Warcraft when we really should be writing that next funding proposal. Plus ca change...
As you can see from the Xerox Alto/Xerox Star version of Maze above, the user's 'character' is represented as visual icon, which actually turns left/right depending on the direction of travel relative to the onlooker, so indeed with Maze we have the arrival of possibly the first "avatars" in a game, ie: a graphical representation of a player that is a suggestion of an animate form in motion in the space. It is interesting to note that Philip Rosedale commented at a presentation I gave to Linden Lab in 2006 that the first avatars in the pre-alpha of Second Life were also big eyeballs.
And now we must diverge...
Now here we must diverge into a fundamental discourse. We are using the term "avatar" usually reserved for "virtual worlds" in the context of Maze, a "game". Biologist and author Richard Dawkins beautifully described a "pilgrimage back in time through the evolution of life on Earth" in his recent tome "The Ancestor's Tale". In the style of Dawkins, if we were traveling back along the evolutionary timelines of the medium of shared online spaces, we might observe the animal called "virtual world" join the critter called "multi-user 3D game" in a common ancestor called Maze War. In the truest sense Maze exhibited all the properties a gaming world, but something else was possible outside of game play, using the networked interface and the instant messaging channel, you could chat and just hang around in the maze with people who were physically located thousands of miles away. This experience of "virtual presence" captivated users and confused newbies who were trying to understand the language of these few new pioneers who dwelt in a visual dimensional cyberspace (even before the term cyberspace was coined). For a peak inside the culture of this Precambrian virtual world, see Ted Kaehler's cartoon below, drawn around 1980 at Xerox PARC.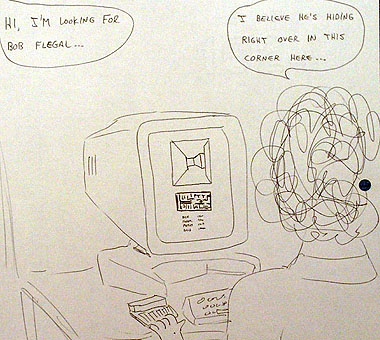 Ted Kaehler's cartoon of a user of Maze War at Xerox PARC, circa 1980
Today we witness journalists trying to grapple with the concept of Second Life and being told again and again "well, its not a game, you cant really describe it as a game". So the term virtual world seems to appear more frequently with but separate from the term game. So if there is a bona fide category of "virtual world" what makes it different than "game"?
So are Social Virtual Worlds different creatures from Game Play Worlds?
Without getting too academic about it, the meaning of virtual world could be derived from its own descriptive terms as a "virtual rendition of the world". Like the "real world", a virtual world is therefore a place where you as an inhabitant are expected to make sense of where you are, what objects are there (maybe even rearranging some of them) and communicating with others (human avatars or non human robots) that might be inhabiting the space with you. So the primary function of a virtual world is discovery then the creation of meaning through the manipulation of the world and communication with others within the world. So entering a virtual world is in a way is like entering the family home as a new born baby, as a child in the first day in kindergarten, arriving at college as a freshman, or as the intern in the first day on the job. So lets adopt the term "social and creative virtual world" or more simply "social virtual world" and see where that takes us.
This might bring us to suggest complementary terminology "game play worlds" to describe multi-player games. As we all know, there is plenty of social interaction and "off game" communication in most online games, and there is often a great deal of creativity as players shape their own characters and their own home turfs. However, I would posit that the primary reason users are in "game play worlds" is the game. Given that all games impose structure on the players with rules, tools and goals, this gives a pre-built context to any game play world. In stark contrast, many social virtual worlds started as true blank slate! Old timers may recall the endless empty plain of Alphaworld when it launched in the summer of 1996 (see below).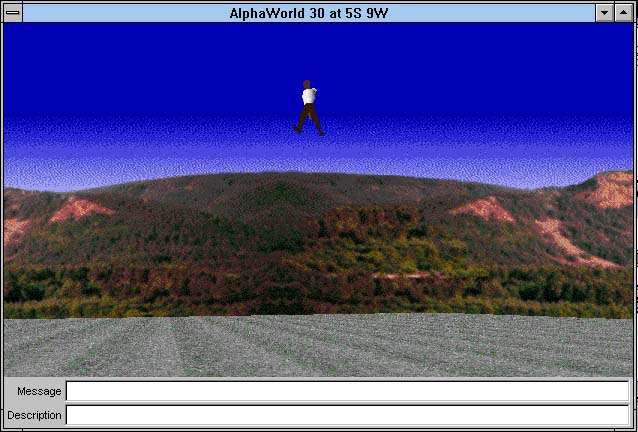 User teleporting into the great empty plain of Alphaworld in Summer 1996
Alphaworld (which later became Active Worlds) had no pre-existing structure or even 3D content other than this vast plain with mountains in the distance (which you could never reach). Users built out the entire space using primitive objects and scripts. While World's Chat, (which preceded Alphaworld onto the scene in the Spring of '96) had a pre-built world (a very nice rendition of a space station), it allowed users to go where they wanted and engage in free form chat. Worlds Chat and Alphaworld, and the many other mid to late 1990s platforms that followed, such as WorldsAway, The Palace, Traveler, Blaxxun, Comic Chat, VChat, Roomancer, Oz, Virtual Places, all shared similar properties and were all therefore virtual worlds. In contrast, early Internet-based multi player games like Quake, Meridian 59 and the Realm, Ultima Online and then of course, Everquest, were clearly focused on game play.
Now one could still muddy the waters and say "how about game play that happens in social virtual worlds"? Fair enough, but this tends to be an structured activity within the larger scope of free form social interacting and building. Of course there is unstructured socializing and general fooling around out of character in game play worlds too but when the break is over, players tend to get back to structured competition.
So does this distinction make sense? Is a social virtual world truly a different creature from a game play world?

So finally... back to some history
Ohmigosh its late and I am probably way over my word limit for this posting! Well, lets give you a teaser for next time. For a real must-read classic, take a look at...

The Lessons of Lucasfilm's Habitat
This was written by Chip Morningstar and Randy Farmer back in 1990 for Michael Benedikt's seminal MIT Press book Cyberspace: First Steps and will give you a great peak into how this fearless (some said foolhardy?) team at Lucasfilm successfully shoehorned an online virtual environment into a Commodore 64 running on a 300 baud modem connection (with ungodly 1980s network latency). This is the first environment where avatars were featured by name. Habitat rebirthed the medium of the social virtual worlds on consumer personal computers inhabiting a graphical world in sparkling Commodore colors.
So we now see our destination for the next posting. Chip Morningstar or Randy Farmer, are you out there, and do you want to work together on the next installment?
One last question for the evening from our jaunt back in time: are MUDs, MOOs, WELL-style conferences and IRC also social virtual worlds? Comments?