Hello TN community! This is my first post to TN so I thought I would quickly shoot you all something and see how it works before embarking on the full guest columns. I plan to provide some perspectives on the origins, evolution and future of virtual worlds as my contribution to TN this month.
For starters, as an "old timer" (I feel like a kind of Gandalf traveling down through the ages of the virtual Middle Earth) I might be able to bring some interesting greying-beard perspective on where this medium got its start. As some of you out there may know, I maintain a barn-full of vintage computer systems going back to the very early days (even before the famed Altair 8800 of some of our youths) and on some of these were created the first shared digital spaces in the form of simple multi-player games. You can learn a lot by looking back at these progenitors of virtual worlds. What is amazing is how fast that the first games "filled all the niches" in terms of the affordances and type of interaction we take for granted today.
One of the first virtual worlds that was rendered in 3D, with multiple players, and played across a network was Maze War which got its start way back in 1974. I am including a screen shot of a restored version of the original "Maze Game" on its first hardware platform, the early vector graphics workstation called the Imlacs PDS-1. This was part of a special event hosted by my Digibarn computer museum which we put together in 2004 as a celebration of the 30th birthday of Maze. By restoring Maze to its rightful place in history, I hoped to uncover more about the origins of first-person shooter games, avatars, social interaction "in world" and the first features of virtual worlds.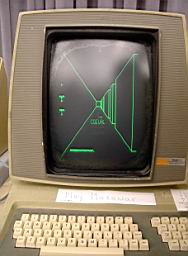 Maze War - running on an early 1970s Imlac PDS-1
So folks... can you see this image and does the link work? Please check out the full story of Maze War at the link.
To be continued...